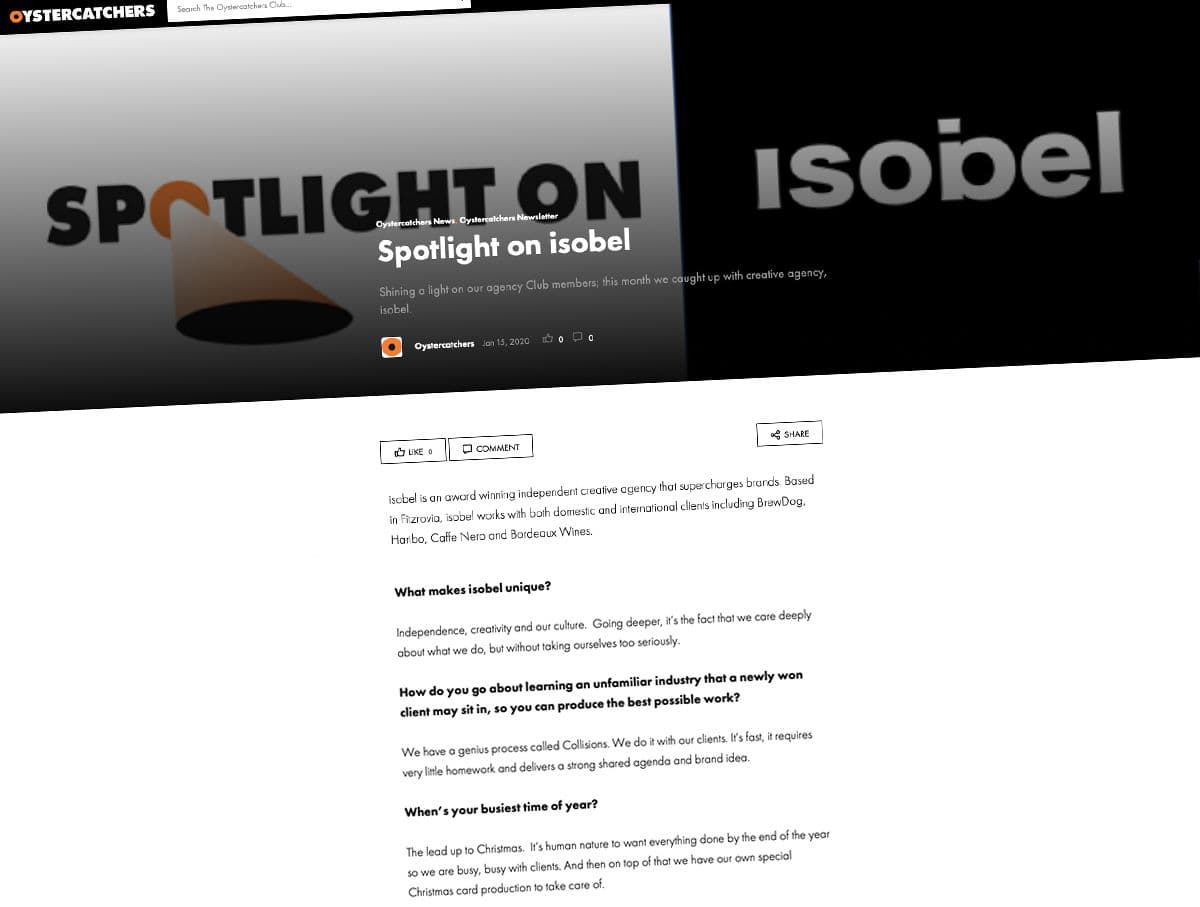 Spotlight on isobel
16 January 2020
Oystercatchers have featured us in a Spotlight piece this week.
Have a read below:
isobel is an award winning independent creative agency that supercharges brands. Based in Fitzrovia, isobel works with both domestic and international clients including BrewDog, Haribo, Caffe Nero and Bordeaux Wines.
What makes isobel unique? 
Independence, creativity and our culture.  Going deeper, it's the fact that we care deeply about what we do, but without taking ourselves too seriously.
How do you go about learning an unfamiliar industry that a newly won client may sit in, so you can produce the best possible work?
We have a genius process called Collisions. We do it with our clients. It's fast, it requires very little homework and delivers a strong shared agenda and brand idea.
When's your busiest time of year?
The lead up to Christmas.  It's human nature to want everything done by the end of the year so we are busy, busy with clients. And then on top of that we have our own special Christmas card production to take care of.
Does isobel have a favourite time of year when it comes to campaigns? 
Probably Autumn time.  Everyone's back from summer breaks refreshed and there are always new campaigns launching.  This September we launched 4 within a couple of weeks, for Caffe Nero, Whole Earth, Old Speckled Hen and Greene King IPA.
Are there any areas across your client relationships that, upon improvement, would change the way you work for the better?
Relationships is the key word here and those are always best forged speaking to each other. So, as much face time and less emails.
What area would you like more contribution from when it comes to clients?
The more we know about a client's business the more we can help. We are about supercharging brands and that means understanding their entire business. This is as simple as having regular check ins and updates but unfortunately time is a precious commodity especially amongst senior client management.
Do you have any funny stories you can share with us in the life of isobel?
Like the time we were asked to a client chemistry meeting at a hotel in Richmond, arrived 2 hours early in preparation and then long after the client failed to show we realised we had gone to the wrong hotel? Never did get that client.
With the increase of in-house marketing, can you see agency models evolving?
Clients will always look for ways to get the best possible value from their comms. And that has to be right. So, in order to prosper, agencies need to be very clear about how they offer value. In general clients are taking 'hygiene' creative in house but that's not what we do. At isobel we are about providing the magic: big, creative ideas that can transform a client's fortunes. And there will always be a market for that.
What 'local' can we expect to find staff from isobel in?
The Ship. It's about 20m from our office on New Cavendish Street, and it's a proper boozer. Very non-media vibe.
If you could offer one piece of advice to new clients, what would it be?
The very best clients ask their agency questions. The very worst clients tell their agency what to do.
What can you tell us about isobel's company culture?
Playful, creative and curious. We care deeply. We are a team. We like each other. We take our work seriously but not ourselves. We do stuff that makes us laugh; whether it's our regular comedy evenings (isobelly laughs), our Christmas cards or just having a potting shed for a toilet.