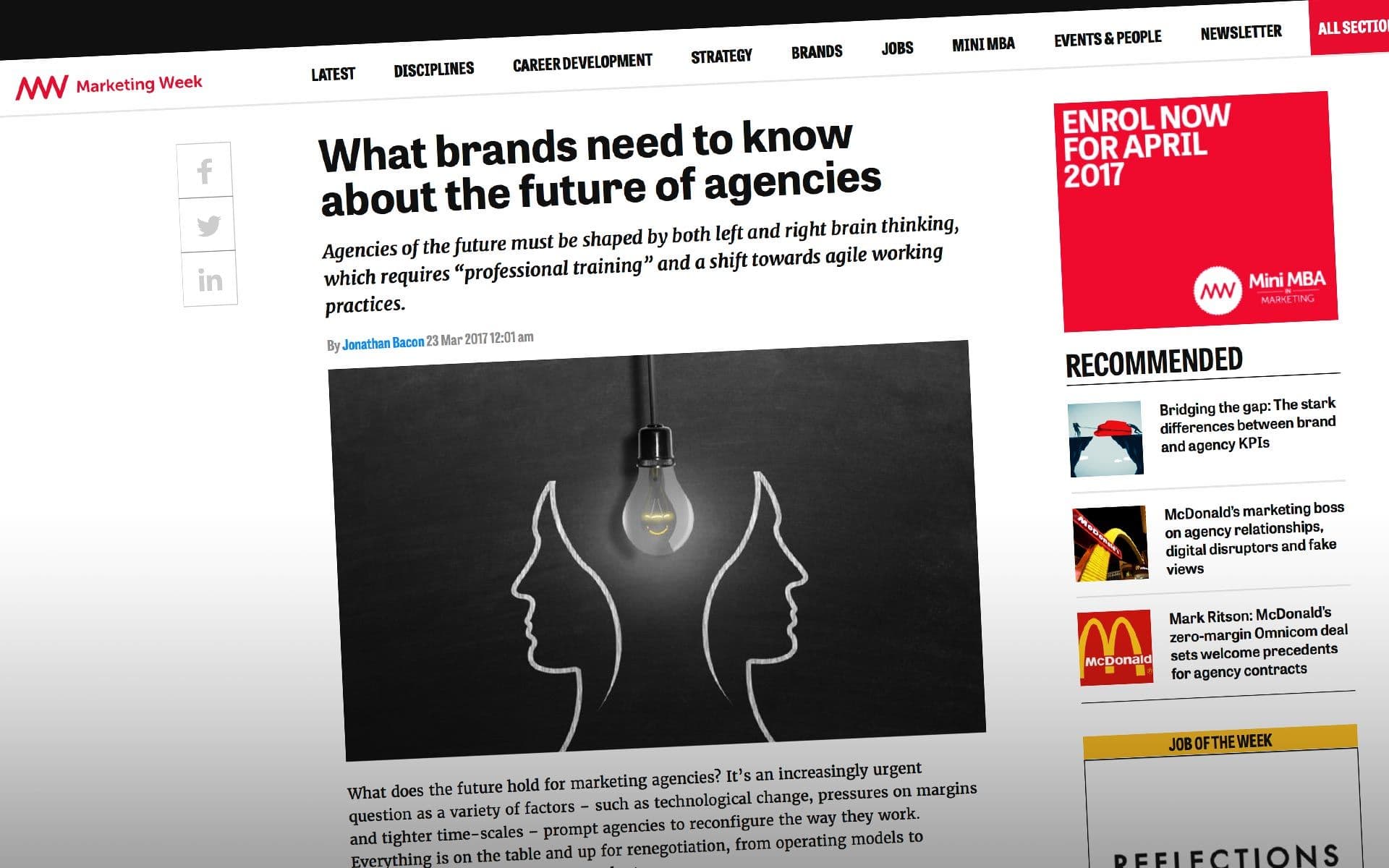 Marketing Week Interview
27 March 2017
We had a joint interview with Wealthify for a Marketing Week article this week, talking about the future of agencies and the role of tech.
A key reason for Wealthify choosing our agency, they said, was our understanding of where tech is going. But it's more than that, it's about understanding exactly how that works for different brands, and how to get each the value they deserve.
Here's a nice quote from Paul, our managing partner.
"Agencies will only thrive in a rapidly changing market if they can clearly understand what value they offer clients."
See what led Wealthify to pick us as their creative agency below. And find the Marketing Week article here .
The interview. 
 Why did you decide to work with isobel? What attracted you to the agency?
Sally Allan, CMO, Wealthify:"As a newly-launched business with limited resources and huge ambition, it was crucial to find the right agency. Working with AAR, our brief attracted an impressive long-list of agencies eager to pitch. I was impressed with isobel's creative and planning credentials on their showreel, and as we went through the pitch process, their collaborative approach built a strong rapport with the senior team and confidence in their capabilities. They were extremely thorough, interrogating and challenging our brief, as well as working with us to explore different ideas. When it came to pitch day, the groundwork and research translated into a proposed brand strategy that resonated really well with us and a creative concept that was simply outstanding.
The agency owners are hands-on and they genuinely understand the entrepreneurial mind-set and challenges facing new start-ups. We've worked to a set budget and very tight timescale for this campaign and isobel have delivered brilliantly on both."
What attributes are you looking for from marketing and ad agencies?
Sally: "Assuming that creative and planning excellence are a given, as a tech start-up and digital business we want to work with agencies that are:
Innovative – understand the digital landscape and proactively search out new channels and opportunities for growth for our businesChallenging – don't accept the status quo or received wisdom, push our boundariesCommercial – understand the numbers that drive our business and focus on delivering ROICollaborative – our senior team wants to be involved and part of the process, rather than kept at arms length until the big reveal. Able to work with/lead other agenciesResponsible – take responsibility for getting things done, tackle problems quickly, communicate well and keep everyone informedDriven – excited to work on our business and make it a huge success"
What do you think are some of the big challenges facing agencies in the future?
Paul, Managing Partner, Isobel:"The biggest challenge for agencies is to understand why they exist and how they can make money. That might sound a bit glib but it's fundamental. We have been through the most incredible transformation of our industry over the last 15 years. A lot of new creative agency offers have come along, a lot of new media channels have appeared, and a lot of tech has become critical. It's not been easy for anyone but agencies will only thrive in a rapidly changing market if they can clearly understand what value they offer clients. A lot of clients will be looking to take more services in-house, most notably a lot of 'hygiene factor' digital work, and a lot of the bigger clients will look to have their own media capabilities, whether it is simply a chief media officer or a more fulsome planning and buying offer."
Are there any ways in which isobel is adapting its operating or client engagement models to ensure it continues to meet client needs?
Paul:"We've always looked to evolve ahead of our clients' needs. At the heart of this, it's important to remember that there is no such thing as a catch-all 'client'. They come in different shapes and sizes. Our focus is on brands wanting high growth. These clients have enough to do everyday simply running their businesses, they appreciate the transforming effect that advertising can have for them but they don't need or want to talk to a myriad of different agencies. We plug the hole for them. We act as their lead agency using our brain and firepower to drive business growth.
As a result, we are continually building out our offer where it can be of advantage to our clients. Over the last couple of years we have added significantly to our content and digital offer, devising and shooting much of it in-house and we're about to launch an activation division to deliver shopper marketing, promotions and branded partnerships. How to bring media and creative closer together is a very topical subject so that is something we're also exploring."
How does isobel ensure it is able to continue attracting the best talent -both now and in the future?
Paul: "The only way we know to continue attracting the best talent is to be successful and have fun. Our mission is to 'shake up the world with unignorable creativity' and we try to live it through both our work and culture. Our Christmas card is legendary, our comedy nights, isobellylaughs, are oversubscribed and I think/hope/pray that our talent is happy."